BTS Taehyung being the king of K-pop now owns the Top 2 most streamed songs on Spotify.
If you are living in this era, indeed you are known to the biggest boy band in the world BTS. Whether it is social media, electronic media, or any broadcasting medium, BTS is everywhere headlining and excelling.
It would not be wrong to say that haters will hate and BTS will dominate. Most-Streamed songs, record-breaking sales, Full stadiums, Billions of views, enormous fan following, Brand representation or country representation, BTS has top honors in all these scales.
BTS has modernized k-pop and conquered the world in the most delightful ways. Tickets to BTS concerts are sold like magic and even on social media armies are after their stuff like they have been waiting for that for ages.
If we talk about individual activities and solo projects, BTS taehyung aka V has made a recent historic mark with two of his songs dominating Spotify.
He has a massive fan base all around the world and he stands out with all his accomplishments. Kim taehyung has been singing in concerts with members, making songs with and also doing his solo stuff for drama, which also holds a huge prominence.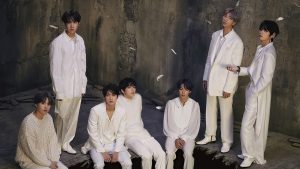 BTS taehyung Sweet Night and Christmas tree as the Most-Streamed songs on Spotify
The catchy songs Sweet Night and Christmas tree with relatable lyrics has been the fan favorites. This significant career milestone is another addition to the long list of his accolades.
Spotify is not the first platform that holds the recognition of V; however several musical platforms have his songs topping others.
V's songs are considered an important part of the entertainment and K-pop industry due to his soulful and emotional voice. His music-making process is super amazing and fans are always anticipating his stuff and admire them when released.
It would not be wrong to say that BTS taehyung involvement in the Korean entertainment industry is not limited to BTS, but also to numerous OSTs of Korean dramas. Sweet Night and Christmas tree are wonderful instances that are mastered on the platform as most streamed songs on Spotify.
V is the first Asian artist to have two of the most streamed K-Pop OSTs in the top 2 positions. Christmas tree is from K-drama Our Beloved Summer and the second most streamed Sweet Night is from K-drama Itaewon Class.
These K-dramas were also a huge success in their times and got several appraises.
These songs quickly became popular among fans and even on platforms like iTunes charts.
Statistical analysis
BTS taehyung Christmas tree has crossed 220 million streams on Spotify, which is the world's largest music streaming service; now it records 222.75 million 94 streams. Christmas tree is the 6th   most streamed K-pop song internationally and the most streamed Korean drama OST in the year 2022.
Sweet Night, One of the Most-Streamed songs passed the 280 million stream mark on January 23, on Spotify. It now records 281 million streams. Kim Taehyung is beating his own best for the most number of streams in K-drama OST history.
BTS taehyung has always been known for his charm and super fascinating personality. He is loved unconditionally and magically by his fans and his achievements are the true evidence of that.
His success as a solo artist is also tremendous and as a member of BTS, he too has made the most popular and influential marks in the K-pop world.
His most streamed songs on Spotify own his unique voice, elegance, and charisma that have won the hearts of fans globally.
He also credits his family, BTS, and ARMYs, and their instrumental role in his success.
From Sweet Night to Christmas tree, BTS taehyung is dominating Spotify. He is the King of Korean OSTs on Spotify.
The end note
BTS Taehyung made history as a Korean artist with the two most-streamed songs Sweet Night and Christmas tree on Spotify.
These tracks have become an instant hit, breaking records and making a mark in the Korean music scene as they top the charts as the two most streamed songs in Spotify's Korean OST chart.
Kim Taehyung is the epitome of excellence in career and K-pop music. His fantastic debut in 2013 with BTS has certainly introduced an extraordinarily talented artist with beautiful pieces of soul, voice, and work.
Are you a BTS Taehyung fan and BTS ARMY?