Introducing KardKey
Are you tired of the hassle of managing multiple keys for your business or home? Do you constantly find yourself digging through your purse or pocket to find the right key? Are you tired of the bulky and disorganized key ring that takes up too much space in your bag?
Well, don't feel weird to tell because this is a situation we all are tired of. But, what if I tell you there is a classy, user-friendly, and organized solution to this problem that you would love to carry and it will become your fashion statement.
Yes, it is KardKey, an Innovative key holder that simplifies your keys and where style meets organization.
With this key holder, you will never have to worry again. Our ultramodern Solution for convenient organized Key Holding ensures the complete organization of keys.  With Kardkey, you can say goodbye to traditional bulky keys making noises and taking a space on the whole planet.
The revolutionary key holder is changing the way we carry our keys. Here is what you need to know about this amazing product.
What is KardKey?
It is a key holder that attaches your keys to a card that easily fits into your wallet. Just like your wallet has different cards, now you have a wallet with a key holder that is just like the card and takes as much space as a car does.
KardKey is designed to give more room in your purse so you have peace of mind of knowing that your keys are organized and not to be lost and stolen. The unique design allows you to attach your keys to a card that easily fits into your wallet, keeping them organized and accessible at all times.
Not only is KardKey practical, but it is also stylish. It offers various designs and colors to suit every taste, so people can match it to their personal style. With this special key holder, you can carry your keys in a way that is both convenient and fashionable.
It is important to upgrade yourself with convenience and ease. Therefore, Kardkey has come up with the most convenient solution for your keys. Upgrade your everyday requirements and experience the ultimate in convenience and style.
KardKey kits
This innovative key holder has a variety of designs and colors to choose from for everyone.
The innovative kits allow organized and convenient key carrying. You can organize and simplify the key-carrying experience with: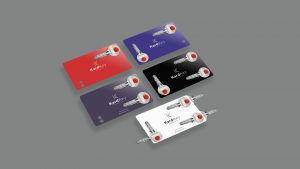 The Classic type is a simple and sleek design that is perfect for those who want a minimalistic look. This is a luxurious key holder that features a sleek matte finish and is made of durable plastic. The patented adjustable locking rivets and hardware make it easy to attach up to 3 keys, and each card can hold up to 6 keys. With 5 beautiful colors to choose from, you'll be able to find the perfect match for your style.
The Elite type is a more premium option and 5 comes in a variety of materials like aluminum, carbon fiber, and titanium. It can hold up to 8 keys and is perfect for those who want a more durable and high-end option. This premium metal version is crafted from brushed metal in your choice of Gold or Titanium. The patented adjustable locking rivets and hardware make it easy to attach up to 3 keys, and each card can hold up to 6 keys. These metal cards offer a touch of luxury and durability that you'll be sure to appreciate.
KardKey Classic 3-Pack Kit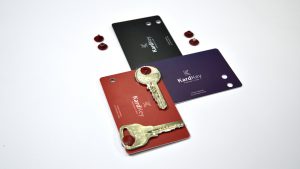 The KardKey Classic 3-Pack Kit includes three durable plastic cards with a luxurious matte finish and patented adjustable locking rivets and hardware. These cards can easily hold up to three keys each, with a maximum capacity of six keys per card.
 How to install KardKey?
Installing this key holder is a simple and easy process. Here is a step-by-step guide on how to do it:
Remove your keys from your current keychain or ring, which is getting uncomfortable for you.
Take the KardKey card and insert the keys through the designated holes on the card and securely attached them with adjustable locking rivets.
Move the key outwards; it is unlocked so that you can use it.
If you have multiple keys, you can use additional KardKey cards to keep them organized.
You are now ready to use this amazing product and enjoy the convenience of having your keys organized and easily accessible.
Furthermore, you can watch the installation guide through this link;
How KardKey is the Future of Key Holding?
Well, it is the Convenience of this innovation that makes it a beautiful element for key organizations.
It is the future of key holding because it offers a convenient and stylish solution to the age-old problem of disorganized keys. With its unique design, KardKey allows you to attach your keys to a card that easily fits into your wallet.
This Innovative key holder has a compact size and unlike traditional keychains and takes up minimal space in your purse or pocket, leaving you with more room for other essentials. This makes it a great option for those who are always on the go and need to carry multiple keys with them.
Furthermore, your key will always be organized and in one place and making them easily accessible.
The most fascinating thing is it comes in a wide range of design options and allows you to choose a style that best suits your personality and preferences.
From sleek and minimalistic designs to bold and colorful patterns, there's a KardKey to suit everyone's taste. It looks super good and incredible while solving an irritating problem.
The sleek and stylish design of KardKey makes it a fashionable accessory for everyday use. You no longer have to dig through your purse or pocket to find the right key.
It eliminates the need for a separate keychain and wallet, making it a great addition to your everyday carry.
Where to Purchase:
Order now from kardkey.com
We also offer international shipping, making it easy for customers worldwide to enjoy the benefits of KardKey.
Don't wait any longer, purchase your own KardKey today and experience the difference for yourself.
Buy this amazing product and simplify your key-carrying experience.
Would you try the super classy and convenient KardKey?