Cost-effective summer skincare hacks are the most delightful topics for anyone crazy about self-care. Well, why should not it be because it is so beautiful to embrace you and love yourself?
Well, life and your body are blessings and the best way to cherish them is to take care of them and be grateful for them.
If we talk about summers, it means some good times and good sunshine, freshness, flowers, happiness, and many more. But the beautiful summer package comes with the sun and scorching heat waves.
To all the lovely people, welcome to that time of year again, when the sun shines brightly and the air smells like new flowers.
So why not know some out-of-the-world Summer Skincare Hacks that will keep your skin super cool, glowing, and fresh so that people will not stay back from complimenting you.
Summer is without a question a favorite season with a feeling of joy in our lives. Certainly, you don't want this fun comes with a series of skin issues that are difficult to deal with. The sun, heat, and humidity can all be damaging to our epidermis. So, it is wise and better to have the things done before so that you can live the best of summer without any trouble with your skin.
Summer Skincare Hacks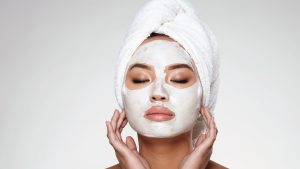 Let us begin with the most important that has never been given a lot of importance and value.
Apply Sunscreen to Your Skin
The skincare routine in order has sunscreen with the most importance. When it comes to skin damage in the summer, the heat is the most to blame. But why blame a natural factor that we all have no control over?
Sunburn, premature aging, and even skin cancer can result from exposure to UV radiation. Therefore, it is important to safeguard your skin with a broad-spectrum sunscreen with an SPF of at least 30 and more is good.
Apply generously and reapply every 2-3 hours, particularly if swimming or sweating. It is good to research the sunscreen that is doing its job good and suits your skin type. You will see a clear difference with this Skincare in summers.
Stay hydrated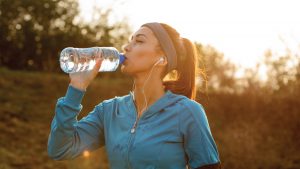 Water is the magical ingredient that will not hurt you but give you the most in return and guess what it is cost-effective. It is necessary for good skin health, and it is especially important during the summer.
Our bodies shed a lot of water through sweating when the weather is hot and humid. The summer's requirement of water is high for the body to work well. Dehydration can result in dry skin, wrinkles, and acne as your skin food is missing and no one is caring.  Therefore, consume at least 8-10 glasses of water per day to stay hydrated from within.
Water Skincare in summers is one of the useful Summer Skincare Hacks. Also, water consumption must be in levels. It is not like you are drinking water at once and the whole day you are not even caring. No, this is not the way. Try to have water in intervals. Overconsumption can harm kidneys as it will drop sodium levels because your kidneys are filtering a lot.
Wear suitable and protective Clothing
Wearing protective clothing is a Skincare in summers as it can help protect the epidermis from the harmful rays of the sun.
Also, choose light, breathable clothes that cover your skin well and also not warm or winter-stuffed because they will cause skin rashes or acne. Cotton or linen in light colors is superb and Out-of-the-world for good summer days.
Keep Your Hair Away From Your Face
This is one of the important Summer Skincare Hacks. I know that hair styling is a weakness of a lot of you, but compromise a bit and try to let your skin breathe.
Rather choose the upward hairstyles so that Hair doesn't stick to your face during the heat. It can cause breakouts or irritation when sticking to the face for too long, especially in higher temperatures outside. You can tie your hair in a bun, or ponytail, to keep it out of your face.
This Skincare in summers not only keeps your face clear but also keeps you cool and comfortable.
Use Lightweight Products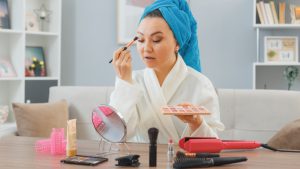 Be it makeup, creams, or anything related to cosmetics, use easy-to-carry products. I would say Skincare in summers and Summer Skincare Hacks has this on the top because heavy creams and lotions can make your skin feel greasy and unpleasant during the summer.
Just imagine the sun's scorching heat is melting everything on your face and you look nothing less than an engine. Certainly, no one wants to feel that way.
It is perfect to use lightweight, oil-free, water-based products that contain antioxidants and vitamins to nourish your face. This way your skin and you both will feel fresh!
Exfoliate regularly
Exfoliating is an important step in any skincare regime, but it is especially important in Skincare in summers. It is one of the most effective Summer Skincare Hacks that will leave your skin perfect and smooth like butter.
During the summer season, our skin produces more oil and sweat, which can cause clogged pores and breakouts. Exfoliation is scrubbing your face and if done regularly like once a week, it can help remove dead skin cells, unclog pores, and keep your skin appearing healthy and glowing.
It is important thing note that people have different skin types. First research it; choose the exfoliator according to your type of skin like sensitive, acne prone, or oily. This way Skincare in summers will do wonders.
Look after Your Lips
The skincare routine in order has its place for lips care, but our lips are frequently ignored. They require just as much care as the rest of our faces. The sun and heat can cause dry, chapped lips that appear dull and lifeless.
Therefore, use a lip balm with SPF protection to keep your lips soft and supple, and reapply as required. Put the skincare on your lips as well so that it doesn't look left out.
Avoid hot showers 
Have mercy on your skin and don't go for hot showers in summer. Skincare in summers and Summer Skincare Hacks are not always about just the products or clothes, it is also about avoiding some things.
A hot shower may feel soothing; let it be for winters and in summers it can exhaust the natural oils of the skin and create dryness. During the summer, it is ideal to take cool, lukewarm showers.
This will help to moisturize your skin and keep it from becoming dry and itchy. This is a highly avoidable thing and even generally super-hot water is not good for the skin.
Go for natural ingredients like aloe Vera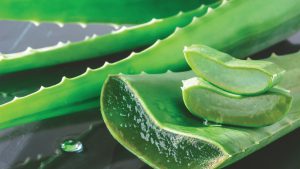 Skincare in summers needs the Summer Skincare Hacks with natural ingredients. The sunburned epidermis can be soothed and calmed with several natural ingredients like aloe vera gel. Apply aloe vera gel to your skin if you spend a lot of time in the sun to cool it down and minimize redness.
It can also be used as a moisturizer to keep your face healthy and hydrated. It has great properties that can heal your skin against the sun.
Also, the orange peel powder and tomatoes can do wonders. Here an important thing is to note that search for the products that are good with your skin type. If a thing is natural, it does not mean it can't harm you. Look before use.
Get Enough Sleep 
Let us end with something that wins the debate with just its importance. The cost-effective Skincare in summers is the sleep that is like the boost to the body and if it is fulfilled you certainly don't need to invest in other things much. Believe me, it is true.
Sleeping enough is important for good skin health, particularly in the summer. Sleep deprivation can result in dark circles, puffiness, and a dull complexion. You will appear like you haven't self-cared in ages. Therefore, to help your skin rejuvenate and appear its best, get at least 7-8 hours of sleep every night.
Little cost-effective Summer Skincare Hacks is all you need.
I would like to share an important thing and hope this will make you feel different and beautiful.
"While caring for our skin is important and sounds amazing, it is also important to love and embrace the natural beauty. It is not about reaching perfection or conforming to certain beauty standards when it comes to skincare.  So, as you Skincare in summers, remember to appreciate and adore the unique beauty that makes you, what you are. Treat your skin well like a blessing, not like changing it because some celebrity or any certain someone looks out-of-the-world. Believe me; you are beautiful in the way you are created. The moment you try to become someone, you are lost in never-ending chaos of life."  
With this beautiful concept, go with self-care. Also, caring for your skin during the summer or any time does not have to be difficult or costly. You can keep your skin healthy and radiant all season long by following simple Skincare in summers.
Enjoy the treasuring warmth of the summer and keep your skin healthy, hydrated, and glowing. Your skin is more important than perfection and unrealistic standards of beauty that are just draining your mental health.
Follow these simple Summer Skincare Hacks and let us know about your experience.