BTS's SUGA is currently enjoying his solo activities and in his recent concert, Halsey made a surprise entry.   For K-pop fans and music buffs, this was a memorable sight and fantastic news.
The concert-goers have voiced the moment as tremendously joyful and adorable. Halsey unexpectedly showed up at SUGA's event in Los Angeles and these two superstars performed SUGA's Interlude, the number-one duet of Halsey and Suga.
It will not be wrong to say that the stage caught fire with excitement, Social media blowup with videos and stuff and nearly everyone was appreciating the chemistry.
In the past, Halsey has done Boy with Love with BTS, and ever since BTS members, particularly Suga shared a great friendship with her.
The chemistry between Halsey and SUGA was beautiful and natural, and fans were left in awe of their great performance. Fans have been waiting impatiently for a live version of SUGA's Interlude and surprisingly both did it together. It was completely unexpected though.
Despite the three-year-old release of Interlude, this was the first chance for BTS's SUGA and Halsey to share the stage and show their Musical bond as a unit.
The Power of this Collaboration has been insane after this performance.
Previously, Halsey's collaboration was also highly appreciated and this time has already won over listeners all over the world, and the success of SUGA's Interlude further smooth their relationship.
It is true that BTS members have had a tough schedule and they have a bare minimum of performances with different artists. Therefore, ARMYs were left with a strong image of their friendship because of the onstage friendliness and respect that they showed.
Furthermore, BTS's SUGA has been showing great success in his journey of a solo career. He has been the Korean soloist with the Highest-grossing concerts in US history after the ongoing concerts. He made history with just two performances in New York and mesmerized the crowds.
Well, Another normal day for any BTS members.
BTS's SUGA song Interlude with Halsey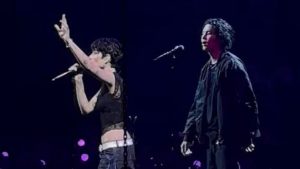 At SUGA's concert in Los Angeles, Halsey and SUGA performed Interlude which is a song they had written together from SUGA's solo album. SUGA co-wrote, co-produced, and co-edited this song, which was released in 2020.
Halsey's entrance electrified the crowd, and ARMYs are now anticipating more pleasant surprises at upcoming shows.
The fans' responses to the unexpected visitors to the world-famous SUGA have been nothing short of euphoric. He received a flood of love and gratitude messages on social media networks.
The interest of fans shows they will never forget Halsey and SUGA's captivating performance together at his concert in Los Angeles.
It seems that ARMYs have fastened their seatbelts and kept an eye out for upcoming projects of SUGA and more fantastic performances.
Halsey's heartwarming note to BTS's Suga after a surprise visit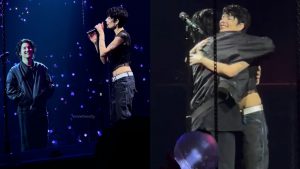 BTS members are known to be super humble, respectful, and kind beyond being talented and successful.  Halsey's Instagram post is another appreciation in the long list.
She voiced her beautiful emotions about Musical bonds as,
"I and Suga have a close creative bond. Suga has always been a genuine artist. He is like my twin in the physical resemblances like smiles and occasionally matching haircuts. This is more than just physical similarities, but an unspoken bond on a creative level. BTS's SUGA solo performance is an amazing event that displayed his vigor, adaptability, originality, and audacious artistic expression. I am thankful to Suga and the ARMY for making me feel welcome and appreciated."
World-famous Suga also playfully remarked on the post that he is actually a year older than Halsey. In her hilarious response to his remark, Halsey jokingly admitted her mistake and apologized for disrespecting her elder.
Nonetheless, this all is a beautiful reflection of Halsey on her seven-year friendship with Suga.
They are connected on a creative and friendly wavelength beyond artistic interests.
BTS's SUGA solo journey is not only presenting his amazing work but also the wonderful surprises that the audience is appreciating and enjoying.