Right now it is Jeon Jungkook everywhere with his breathtaking visuals that are breaking the internet and headlining the new Calvin Klein Campaign.
Calvin Klein's new Ambassador would be so charming, no one knew but there was some green signal that fans have been waiting for and finally, the moment came and set the audience on fire.
Well, if you are a BTS die-hard fan, it is nothing new that any member or whole group is breaking the internet and media.
Jung Kook seems the Perfect Fit for Calvin Klein's new Denim Campaign that radiates confidence and freshness. The beautiful and captivating aesthetics in the video with one and only Jungkook BTS are enough threats to his fans
This collaboration is the news we all have been waiting for and has finally arrived!
Right now could there be any news more exciting?
Certainly not!
Jeon Jungkook is the favorite golden and his newest Calvin Klein campaign received most of all love as soon as it is released.
He absolutely killed the campaign by being the face of the newest denim collection.
A video was released starring Jungkook wearing denim aesthetics from Calvin Klein and this short video received the top likes in just 17 minutes. At times it gets the most recognition and appreciation from social media and fans.
It was not the product of the brand that was the main center of attraction but one of the stars Jeon JungKook and his undeniable charm and charisma.
Calvin Klein and Jung Kook even have a back story. Jungkook BTS is often seen wearing this brand and ever since all the members have been associated with brand representations, he was anticipated to join the brand. The internet was full of his edits where ARMYs made his content portraying him wearing the Calvin products.
Even Calvin Klein was seen commenting under related posts and following the associate company of BTS. So there were signs and when they came to reality, it turned out to be the biggest campaign for the brand.
Even after his inclusion, the website of Calvin Klein was crushed and they have to officially mention it. This is the power BTS holds and this is what success looks like.
Calvin Klein formally announced the new global ambassadorship of the brand with Jungkook BTS on March 28, 2023.
Jeon Jungkook voiced his views as,
"I have been a fan of Calvin Klein for a long time, and I am thrilled to be their newest global ambassador. This collaboration is very important to me because Calvin Klein's heritage and brand values resonate with me. My music is how I communicate with my fans all over the globe, and I see this collaboration as a new method to connect with them. I'm very excited for folks to see a new side of me in this brand's first campaign."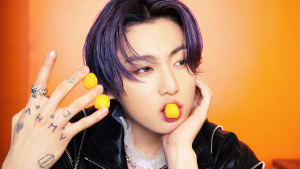 Well, that is true because the new campaign has him with all the things ARMYs want to see like Jungkook tattoos, Jungkook abs, and him wearing captivating stuff.
Calvin Klein is one of the most recognizable fashion labels of all time. For decades, the brand has been a priority of fashion enthusiasts due to its aesthetics. And now they have selected Jeon Jungkook to be the face of their brand which will bring a new edge to the brand.
Also, there are reasons to choose him. Be it his die-hard fans, global recognition, or unique reflection, there is a never-ending list of preferences.
What makes him the ideal Calvin Klein model?
To begin with, the statement of Jonathan Bottomley, Calvin Klein's Global CMO,
"We take pride in identifying globally relevant talent whose cultural impact and values are consistent with our own. Jungkook BTS is one of the world's most famous artists, with a magical capacity to connect with international audiences through his music and his style. We consider ourselves fortunate and excited to have him join the Calvin Klein family."
Photographer Park Jong Ha shot the new ad with Jeon Jungkook and the details of the video have the 90s Straight Jeans, Relaxed Fit Denim Shirt, Oversized Denim Jacket, and Relaxed Fit Standard Logo Crewneck Tee from the Calvin Klein Spring 2023 collection. These products are available on the website of the brand and it even crashes as demand is too high.
The end note
Some great fashion eras have begun with Jeon Jungkook and Calvin Klein. He is known to be perfect in the entertainment industry for his amazing body and physique which is highly admired.
His relatable and lovable persona has always won and this time around truly stunning photo shoots and videos has proved it all.
So, whether you are a BTS die-hard fan or a fashion enthusiast,   Jeon Jungkook and Calvin Khein are something hard to take the eye off from.