The former Pakistan pm Imran Khan arrested while appearing in Islamabad court to answer to corruption charges. The act will result in several political consequences and the dynamics of this developing scenario and its potential effects on the political climate of the nation will take along a lot of unexpected things.
The state of Pakistan is suffering from political, social, and economic turmoil. The people are suffering due to inflation and different sectors are also not showing good signs. Amid all the chaos, the arrest of the highly-admired personality of Pakistan will bring protests and further instability.
Imran Khan was seen escorted by Security personnel in a van in a video. Within moments, this news spread comprehensively, resulting in Political Unrest and Protest Calls.
It has not been a lot of hours, but Imran Khan is trending on social media platforms, particularly Twitter which shows how this matter has caught global attention.
Imran Khan Arrest shocked the political establishment of the nation. The Pakistan Tehreek-e-Insaf (PTI), Khan's political party, has issued a spell of statements in response to the arrest, which took place amid corruption allegations against Khan.
The Pakistan Tehreek-e-Insaf (PTI) wasted no time in saying its supporters to protest in the streets after Khan was arrested. The party's leadership has cast the arrest as politically motivated in an effort to discredit their progressive program and silence their leader.
Imran Khan arrested and stated his thoughts in a video,
"Ready to enter the prison! There is no need to bring police, Rangers, and the army in order to arrest me. I will turn myself in if someone has a warrant; they can show it to me and my legal team. I'm prepared to enter prison."
Before leaving for Islamabad, Khan had issued a video message in which he declared that he was ready to go to jail in the event that authorities issued an arrest order.
Khan asserted that despite the lack of evidence against him, he was mentally prepared to turn himself in.
What would be the situation in Pakistan after Imran Khan Arrest?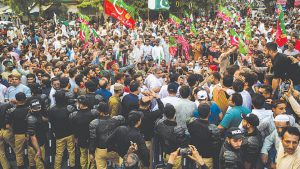 It is certain that a huge wave of instability would stick Pakistan. Imran Kahn is known to gather zillions of people on a single call and in such a situation when the beloved leader has been arrested, the mass would highly react and the situation is risky.
The news of Pakistan pm Imran Khan arrest spread throughout the nation and protesters took to the streets.
The PTI has called for rallies and is seeking justice for their leader after Imran Khan's arrest, which has ignited a political uproar in Pakistan.
It would not be wrong to say that an important turning point in Pakistani politics has been reached when Imran Khan arrested.
It has just been a few hours since Imran Khan Arrest and the country's situation has become terrible.
 Imran Khan Arrest immediately provoked large rallies around the nation, with some of the violent occurrences during these protests, including the shooting. Such incidents show how strongly the general populace has reacted to Imran Khan arrested. and the chance of further chaos in the nation.
According to reports,
The arrest of Imran Khan is connected to the Al-Qadir Trust issue, which contains accusations of shady land deals and claims that Khan made billions of rupees from them. PTI strongly condemned his detention and called it a black day for our democracy and country. A spokeswoman for the PTI named Fawad Chaudhry asserted that Khan was abducted from court premises and that both attorneys and members of the public experienced violence."
The ending note
The future is unpredictable, but if one has to make a small estimation, that is even not optimistic if we see what Pakistan is suffering from.
The state needs the time for proper management to get the long-lost stability in economy, values, politics, and whatnot?
Imran Khan arrested certainly changed the course of events as it has set aggression among people.
The setting of the nation is expected to change as a result of this arrest. It is obvious that the effects of this incident will go far beyond Imran Khan's personal fate and will affect the country now and even in the future if there is no sign of stability.